Bottom Dump – Clam Dump Trailers
SPECIFICATIONS
Trail King's Bottom Dump Trailer is engineered to be lightweight, yet rugged and strong. It's lightweight cross-bracing and gusset design minimizes the twisting and flexing in critical stress areas while delivering maximum weight savings. The result is more payload, even with the toughest loads and under the harshest hauling conditions
Full-Width Fenders,
both front and rear, are sloped to shed material more effectively.
Oil-lmpregnated Bronze Bushings
at gate pivot pins ensure smooth operation, long life and simplified replacement.
One-Piece Unitized Design
of the hopper and frame provides optimum strength and maximum weight savings.
Two-Component Paint Finish
The entire trailer is primed and I painted with a two-component poly-urethane primer and paint, after which electrical lines are installed
Lightweight Crossbraces
tie the frame together in a way that minimizes the flexing and twisting that can cause cracking in critical stress areas.
Large 11′ 6″ Clam
and 64″ x 99″ hopper opening, combined with nearly vertical hopper walls, delivers complete dumping of even the stickiest materials.
Full Oscillating Fifth Wheel Plate
features a spherical, chrome-bushed design that reduces wear and provides longer service life than a shaft and bushing design.
Large Air Reservoir,
with air system oiler, means longer operating time and better control.
Adjustable 11-Position Gate Stop
is conveniently positioned on the side of the hopper so the gate setting can be adjusted without crawling under the trailer.
Chrome-Bushed Spherical Bearings
on the ends of the gate equalizer arms reduce wear and ensure long, trouble-free service life.
22 cu. yd. hopper.
16 – 1/2″ air brakes.
8.25 x 22.5 steel disc wheels (hub piloted).
11 R 22.5 steel disc wheels (F).
Oil seals.
Multi-leaf spring suspension.
18″ kingpin setting.
Oscillating kingpin plate.
100,000/80,000 psi high yield steel unitized frame construction.
102″ wide.
Telescopic pin-type park stands.
Bolt-on push block/bumper. Rubber-mounted sealed beam lights and sealed harness system.
Mid-turn signal/clearance lights.
3rd tail light package.
Electrical system per DOT regulations.
7-pole electrical socket.
Red & white conspicuity markings.
8″ air cylinders. Open/close gate control from cab—versa valve with handle.
20′ to 48′ overall length.
Variable flow gate control.
6-pole electrical socket.
Air-ride suspension.
Sloped cover front and rear.
Single point suspension.
Pup trailers available.
Single and tandem dollies.
Hub and drum options.
Tire and wheel options.
| Model | BD22.402 | BD22.362 | BD22.403 | BD22.433 |
| --- | --- | --- | --- | --- |
| Capacity | 22 cu. yds. | 22 cu. yds. | 22 cu. yds. | 22 cu. yds. |
| Overall length | 39'10" | 36'10" | 39'10 | 42'10" |
| Overall height | 9'2″ | 9'2″ | 9'2″ | 9'2″ |
| Overall width | 102″ | 102″ | 102″ | 102″ |
| KP to center last axle | 36′ | 32′ | 36′ | 39′ |
| Empty weight | 12,600 lbs. | 12,200 lbs. | 14,600 lbs. | 14,900 lbs. |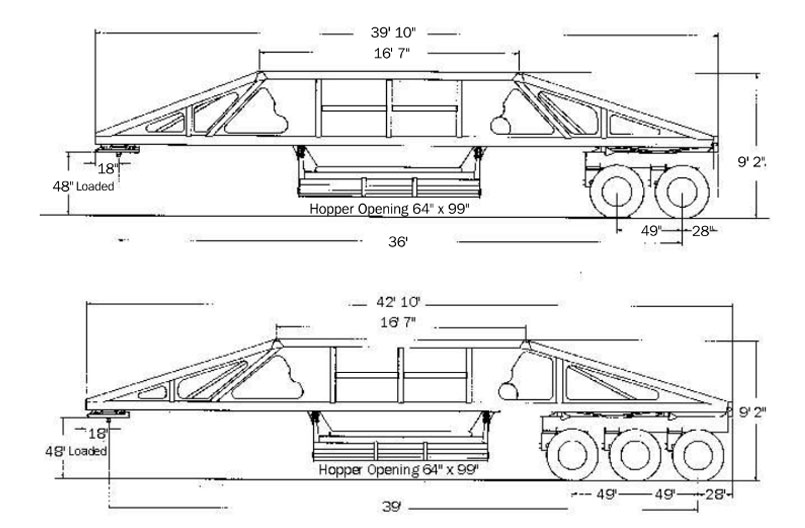 For More Information on this trailer,
call your local sales representative located on the
Contact Us page or  call  780-447-1970