Commercial Hydraulic Detachable Gooseneck Lowbed Trailer
SPECIFICATIONS
For more than two decades, Trail King's Hydraulic Detachable Goosneck (HDG) trailer has been North America's bestselling detachable lowboy… and for good reason. Engineered to make unhooking, loading/undloading, and hooking up again a simple one-person operation. And today, the Commercial HDG has become the "go to" choice for professional haulers. The HDG's dependable load-hauling strength, durability, and versatility can stand up to any challenge…even "tough to scale" loads.
The Trail King Commercial HDG… destined to be the best detachable lowboy you'll ever own.
Adjustable Ride Control
Adjustable ride height control is standard on TK102HDG and TK110HDG models, with the controls conveniently located near the rear tail channel.
Double-Hinged Ramp and Support Ledge
The 31″ front loading ramps are double-hinged and reinforced with a support ledge for added strength. Because both hinges rest on the ledge, even heavy track-type equipment can be loaded without risk of "peeling off" the loading ramp.
Knuckle and Boom Troughs, 3rd Lift Axle
Lowered cross members are covered with 1/4″ MF80 steel for a knuckle trough in the rear deck area. Lowered cross members through the entire wheel area, including a lowered center section in the rear channel, are covered in with 10-ga. steel. A third axle with lift is standard equipment on TK102HDG and TK110HDG models.
Adjustable Gooseneck
The 5-position adjustment allows you to position the trailer to match the particular requirements of the truck, the load, or the hauling conditions.
V-Shaped Guide
The v-shaped guide directs the goose-neck into position during hook-up, making the whole process a quick, easy one-man operation. Trail King's exclusive horizontal safety pin automatically locks the main pin in place so it cannot accidentally disconnect.
One-Piece Construction
Trail King I-beams are constructed of one-piece web and flange material and welded on all four sides to seal and protect the seams from rust. The result is an I-beam that is not only stronger… but one that is stronger longer.
Gooseneck Support Arm
The hydraulic gooseneck support arm, which comes as standard equipment, holds the gooseneck up when it is detached from the trailer. No blocking required.
Outrigger Construction
I-beam style outriggers are mounted on the top and bottom flange and span the entire width of the side beam for optimum strength and support. Heavy-duty pullout front outriggers provide extra strength at the pivot point where the weight is concentrated during loading. Close-set outriggers at mid-deck prevent planks from tipping up when the load rolls over them.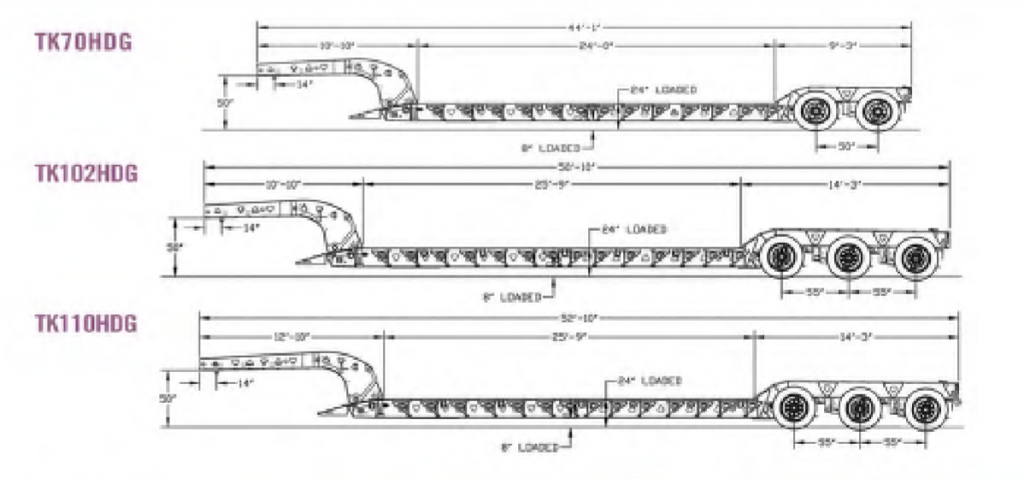 TKHDG-C STANDARD EQUIPEMENT
TK70HDG
TK102HDG
TK110HDG

Capacity (in 12")

70,000 lbs.

102,000 lbs.

110,000 lbs.

10' 10" gooseneck (14" KP setting with 86" swing clearance)

X

X

–

12' 10" gooseneck (14" KP setting with 110" swing clearance)

–

–

X

2nd king pin setting (38" KP setting with 186" swing clearance)

–

–

X

Deck length

24'0"

25'9"

25'9"

1 ½" oak decking (raised) (NET)

X

–

–

1

3

⁄

4

" apitong deckling (raised)(NET)

–

X

X

25,000 lb. (⅝"wall) axles

2

3

3

3rd axle air lift

–

X

X

Axle spacing

50"

55"

55"

Anti-lock brake system

X

–

–

Frame reinforced for single axle booster or flip axle

–

–

X

50" loaded 50th wheel height

X

X

X
TKHDG-C STANDARD EQUIPMENT On All Models
| | |
| --- | --- |
| • Gooseneck arched for inscreased truck frame clearance | • Triangle cut-outs on deck and bolsters |
| • 5-postion gooseneck height adjustment +/-4" | • 16 ½ " 7" air brakes w/ outboard drums |
| • Hydraulic self-lifting detachable gooseneck (has ability to lift above or below transport positions) | • 8.25 x 22.5 10-hole pilot mount steel disc wheels |
| • Hydraulic gooseneck support arm | • 255/70R 22.5 16PR radial tires (H) |
| • Patented air-activated, self-locking pin on goosneck (positive lock) | • Oil seals, one-piece |
| • Gooseneck does not require ground-bearing pads for lifting | • Air ride suspension w/ raising and lowering (raising/lowering optional on TK70HDG) |
| • 31" front loading ramps | • Front bolster |
| • 102" overall deck width | • LED lights (50 state legal) |
| • 24" loaded deck height | • Mid-turn signal/clearance light |
| • 4-beam main frame construction | • 3 Tail lights per side (amber in center) |
| • 10" I-beam cross members on 24" centers (4" stub cross members for 12" centers in outer bays) | • Rubber mounted sealed lights and sealed harness system |
| • 100,000/80,000 PSI yield strength steel construction | •  Air, electrical, and hydraulics installed after paint |
| • ½ " x 5" outside top flanges | • Liquid filled air gauge |
| • Swing-out outriggers with planks | • Flag holders, font of deck and rear of trailer |
| • Pull-out HD outriggers with planks | • Wide load sigh brackets |
| • 14 D-rings (bent style) on deck, 2 (straight) on wheel area | • Mud flaps |
| • Knuckle trough at rear of deck (72" long, covered w/ ¼ " MF80 steel) | • Media blasted prior to 2-part polyurethane primer and pain |
| • Full depth boom trough in wheel area (covered w/10-ga. MF20 steel | |
For More Information on this trailer,
call your local sales representative located on the
Contact Us page or  call  780-447-1970