Conveyer Agricultural Trailer
SPECIFICATIONS
Featuring an aerodynamic design, the Rolled-Side Aluminum Super Hi-Lite Trailer is one of Trail King's best products for moving agricultural commodities. Achieve reduced cross-contamination between loads with our smooth continuous belt model, paired with raised belt flanges and a spring-loaded belt scraper.
Choose the lightweight segmented belt model and you will still experience the fast and clean horizontal rear discharge enabled by the full height High Molecular Weight (HMW) plastic wall liner available on both models. The ASHR models also offer reliable and low maintenance performance with either the pintle chain or heavy-duty roller chain system and superior tailgate seal against the trailer body.
Setback Hinge to Lift Hydraulic Tailgate
Tailgate features an aluminum rolled body with full plastic liner on all models. This design enhances cleanout by eliminating
product buildup in corners.
Manual Lever Controls
All models come with level controls for the tailgate function and variable rate of flow control.
Safety Locks & Rear Lights
Hydraulic cylinders provide security and efficiency. Includes rear work lights for after dark operation.
Detachable Access Ladder & Rear D-Rings
Safely access the body of the trailer and convenient storage on the sides.
Direct Hydrostatic Drive
Double reduction gearbox on all models comes in single or dual drive depending upon belt width and payload requirements.
Inset Top Hinged Hydraulic Tailgate
Unloading your load is efficient and controlled with this enhanced feature.
Wireless Remote Control for Belt Operation
Aluminum Grain Chute

48″ or 64″ Segmented
48" Continuous

Knife Gate
Spring-Loaded Belt Scraper for Segmented Belt models
Spring-Loaded Belt Scraper Standard on Continuous Belt models only.
Experience a cleaner belt and reduced cross contamination of different products.
(A) Continuous 48″ Rubber Belt with veneer edge and stainless steel fasteners.
(B) Heavy Duty 3″ Roller Chain Pitch
(C) Hinged Access Door
(D) Hydraulic Tap Chain Oiler.
| TKASHR STANDARD EQUIPMENT | ASHR | ASHR-C |
| --- | --- | --- |
| Kingpin Setting | 36″ | 36″ |
| Hopper Sheets | .210 Aluminum | .210 Aluminum |
| Hopper Crossmember | 1 or 2 | 1 or 2 |
| Floor Liner | .25″ UHMW | NA |
| Wall Liner | .188″ HMW | .188″ HMW |
| Door | Top Hinged | Top Hinged |
| Door Controls | Manual Hydraulic | Manual Hydraulic |
| Drive | Single | Single |
| Chain | 2.61″ Pintle | 3.00″ Roller |
| Chain Crossmembers | Aluminum Extrusion | .098″ Domex 100 |
| Chain Oiler | NA | X |
| Belt | 2 Ply Belt Flaps | Continuous |
| Belt Fasteners & Clip | NA | Stainless |
| Belt Flashing | NA | Aluminum |
| Suspension | Air Ride | Air Ride |
| Suspension Configuration | Tandem | Tandem |
| Suspension Location | Wheels Back | Wheels Back |
| D-Rings on Rear of Chassis | X | X |
| Anti-Lock Braking System | 2S1M | 2S1M |
| Brake Rating | 21k | |
| Hubs/Drums | Duralite/Cast | Duralite/Cast |
| Wheels | 8.25 x 22.5 Steel | 8.25 x 22.5 Steel |
| Tires | 11R22.5 | 11R22.5 |
| Aluminum Front Fenders | X | X |
| Aluminum Rear Fenders | X | X |
| Two-Speed Landing Gear | X | X |
| Ladders | Front & Rear | Front & Rear |
| Sealed Electrical System | X | X |
| LED Lights | X | X |
| DOT Required Lights w/ Midturn & 3rd Taillight | X | X |
| Trail King 2-part Polyurethane Primer & Paint | X | X |
| Red and White conspicuity markings | X | X |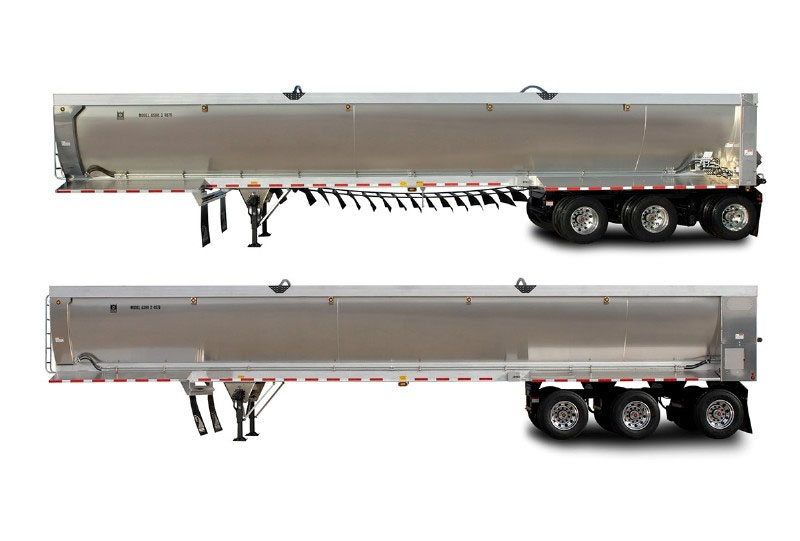 | STANDARD MODELS: | 4272-48 | 4278-48 | 4284-48 | 4296-48 | 4202-48 | 4672-48 | 4678-48 | 4684-48 | 4696-48 | 4602-48 |
| --- | --- | --- | --- | --- | --- | --- | --- | --- | --- | --- |
| Capacity (cu. yds.) | 57 | 63 | 69 | 81 | 87 | 63 | 69 | 75 | 87 | 93 |
| Overall Length (ft.) | 43 | 43 | 43 | 43 | 43 | 47 | 47 | 47 | 47 | 47 |
| Body Length (ft.) | 42 | 42 | 42 | 42 | 42 | 46 | 46 | 46 | 46 | 46 |
| Overall Height | 10'4″ | 10'10" | 11'4″ | 12'4″ | 12'10" | 10'4″ | 10'10" | 11'4″ | 12'4″ | 12'10 |
| KP to Last Axle | 37'4″ | 37'4″ | 37'4″ | 37'4″ | 37'4″ | 41'4″ | 41'4″ | 41'4″ | 41'4″ | 41'4 |
| Segmented (lbs.) | 12,280 | 13,039 | 13,062 | 13,666 | 13,891 | 13,288 | 13,518 | 13,735 | 14,170 | 14,412 |
| Continuous (lbs.) | 13,608 | 13,827 | 13,850 | 14,454 | 14,679 | 14,151 | 14,381 | 14,598 | 15,033 | 15,275 |
| | | | | | | | | | | |
| --- | --- | --- | --- | --- | --- | --- | --- | --- | --- | --- |
| STANDARD MODELS: | 4872-78 | 4878-48 | 4884-48 | 4896-48 | 4802-48 | 5272-48 | 5278-48 | 5284-48 | 5296-48 | 5202-48 |
| Capacity (cu. yds.) | 65 | 72 | 79 | 93 | 100 | 71 | 78 | 85 | 99 | 106 |
| Overall Length(ft.) | 49 | 49 | 49 | 49 | 49 | 53 | 53 | 53 | 53 | 53 |
| Body Length (ft.) | 48 | 48 | 48 | 48 | 48 | 52 | 52 | 52 | 52 | 52 |
| Overall Height | 10'4″ | 10'10" | 11'4″ | 12'4″ | 12'10" | 10'4″ | 10'10" | 11'4″ | 12'4″ | 12'10 |
| KP to Last Axle | 43'4″ | 43'4″ | 43'4″ | 43'4″ | 43'4″ | 47'4″ | 47'4″ | 47'4″ | 47'4″ | 47'4 |
| Segmented (lbs.) | 13,541 | 13,777 | 14,001 | 14,445 | 14,694 | 14,048 | 14,295 | 14,531 | 14,997 | 15,256 |
| Continuous (lbs.) | 14,441 | 14,677 | 14,901 | 15,345 | 15,594 | 15,023 | 15,270 | 15,506 | 15,972 | 16,231 |
For More Information on this trailer,
call your local sales representative located on the
Contact Us page or  call  780-447-1970