SPECIFICATIONS
Trail King's Advantage Plus! Hydraulic Sliding Axle (SA) trailer has become the "go to" choice for hauling professionals who are looking for dependable load-hauling strength, durability, and versatility. The SA features a low load angle, greater payload capacity and stability, more corrosion protection of critical components, and smoother, more precise operation.
The Trail King Advantage Plus! SA… destined to be the best sliding axle trailer you'll ever own.
Winch
Even disabled equipment can be loaded with ease with the standard 20,000-lb. winch, which comes standard with winch guard.
Front Access Panel
Standard front access panel offers easy access for connecting hydraulic, air and electrical lines. The panel may also be opened for internal maintenance or repair simply by loosening four bolts.
Slide Pan
As the axles travel, the deck rides securely on 4″-wide rollers that are centered on the main beams, preventing flange damage common in offset designs. A special flexible chain track encases and protects traveling air and electrical lines.
Side-By-Side Two-Stage Cylinders
Because the powerful side-by-side 2-stage cylinders are in the closed position during transport, the cylinder piston rods are protected from road grime and debris.
Hydraulic Valve Controls
Backlit push button control pad with LED indicators is conveniently located on driver side to control hydraulic and air functions. (Dual-side hydraulic controls optional.) Full-function remote is standard equipment.
Tool Box
Lockable side access toolbox with chrome T-handles is standard. (Top access with gas shock is optional.)
Tie Downs
Two-way tie downs (with optional stake pockets below) on all main beams and 4-way slots in the 3/8″ high-strength smooth steel approach plate (inset photo) provide almost limitless tie down options. Also note how the deck is double-screwed to all cross members to prevent cupping.
Grease Bank
Easy access grease points in the tail channel as well as along the sides of the trailer make greasing the entire trailer, including axle components, rollers, and cylinder pivots, a simple, convenient process.
Winch Roller And Skid Plate
A recessed roller at front of deck and a skid plate on the slope of the upper deck protect both the winch cable and the deck of the trailer from damage during loading and unloading.
Perimeter Frame Design
The perimeter frame delivers maximum strength and stability during loading and unloading. The design also includes an undercarriage to protect air lines when the trailer is in the transport position.
One-Piece Construction
I-beams are constructed of one-piece web and flange material and welded on all four sides to seal and protect the seams from rust. The entire trailer is primed and painted before decking and air, hydraulic, and electrical lines are installed, for complete protection even in places you can't see.
Bumper Tail Tail Channel
Provides required under-ride protection while trailer is in transport position. Bumper travels with wheel area as it is positioned to allow the deck to be lowered to a low 6 1/2° loading position. Three light package standard. Strobe light optional.
| TKSA STANDARD EQUIPMENT | TK80SA | TK110SA |
| --- | --- | --- |
| Capacity: | 80,000 lbs uniform 50,000 lbs in 10 ft. | 110,000 lbs uniform 70,000 lbs in 10 ft. |
| Perimeter Frame Gooseneck Design | X | X |
| 102″ wide | X | X |
| 371⁄2″ loaded deck height with 17.5 tires | X | X |
| 42″ loaded deck height with 22.5 tires | X | X |
| 49″ loaded 5th wheel height | X | X |
| 9′ 10″ upper deck | X | X |
| 16″ kingpin setting with 80″ swing clearance | X | X |
| Hydraulic sliding axles | X | X |
| Tilting main deck – forms a ramp to upper deck | X | X |
| 61⁄2° loading angle, 15° dump angle | X | X |
| Air Ride suspension | X | X |
| Air Ride | X | X |
| No traveling hydraulic lines for sliding axle operation | X | X |
| Side by side 2-stage cylinder, closed in travel position | X | X |
| Air and electrical lines contained in protective track | X | X |
| Single recessed winch roller at front of deck | X | X |
| Skid plate on slope of upper deck | X | X |
| Push bottom hydraulic valve controls | X | X |
| 3rd tail light package | X | X |
| Central located lube system | X | X |
| 4 beam main frame construction | X | X |
| 3″ I-beam cross members, | 12″ on center | 8″ on center |
| Triangle cutouts | X | X |
| 50″ axle spacing | X | X |
| 25,000 lb. axles (5/8″ wall) | 2 | 3 |
| 4S2M ABS BrakeS | X | X |
| Automatic slack adjusters | X | X |
| One-piece oil seals | X | X |
| Pro Tork axle nutS | X | X |
| 80′ winch cable with locking safety hook | X | X |
| Key hole slots on 24″ centers in inner and outer beams | X | X |
| 3/8″ high-strength smooth approach plate | X | X |
| 4-way slots on approach plate | X | X |
| 2 side access tool boxes at front of upper deck | X | X |
| LED lights, 50 state legal | X | X |
| Electrical system per DOT regulations | X | X |
| Mid-turn signal clearance lights | X | X |
| Rubber mounted sealed lights with sealed harness system | X | X |
| Mud flaps | X | X |
| Red & white conspicuity markings | X | X |
| Paint- Trail King 2-part polyurethane | X | X |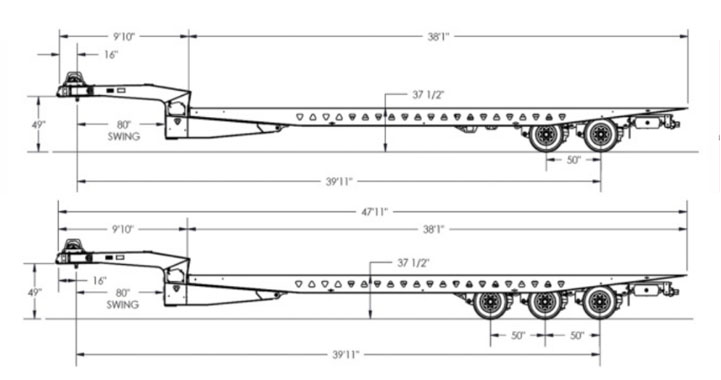 For More Information on this trailer,
call your local sales representative located on the
Contact Us page or  call  780-447-1970