# 1 NORTH AMERICAN CHASSIS MANUFACTURER
Hyundai Translead is proud to be the # 1 selling North American container chassis manufacturer today. HT Chassis can be made to multiple length configurations to meet your intermodal needs.
Hyundai Translead's state-of-the-art chassis manufacturing facility produces a wide variety of sizes (20´, 40´, 45´, 48´, and 53´), designs, and specifications, including fixed, sliding, air ride suspension and multiple axle chassis.
FEATURES & BENEFITS
The largest container chassis supplier in North America, capable of producing over 1,000 chassis per month.
High-strength alloy steel construction for extra strength and durability.
State-of-the-art manufacturing facility with top-notch surface preparation, advanced corrosion protective coating application and highly automated running gear assembly processes.
Industry experienced team of engineers are equipped with the latest computer aided technology to bring production design, control, and manufacturing all together to enhance the field of factory automation for enhanced cost competitiveness.
Re-manufacturing program is available to extend the service life and to reduce life-cycle costs of chassis.
SPECIFICATIONS
Heavy duty construction
All steel parts are shot blasted, primer coated before and after fabrication with zinc rich primer
Heavy duty diagonal bracing in center and suspension areas
Sealed wiring harness with integral ground
A.A.R. Certified
3 – 1/8″ gooseneck height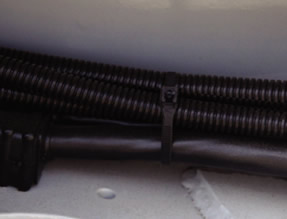 Air and electrical lines
Air and electrical lines protected with Automotive Wire Loom for optimal wire protection.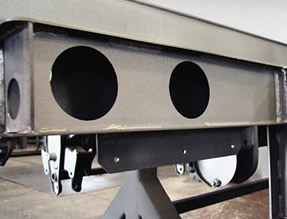 Fabricated Steel
All fabricated steel parts are shot blasted, prime coated before and after fabrication and welding then followed with a zinc rich epoxy primer.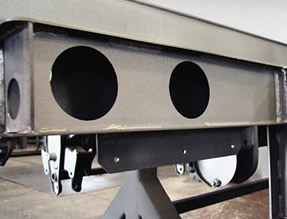 Quality Workmanship
To ensure Quality workmanship, all Hyundai Translead welders are ASW qualified.
GENERAL
| | |
| --- | --- |
| Overall Length | 53′ 8″ |
| Overall Width | 96″ |
| King Pin Setting | 36″ |
| Capacity | 67,200 LBS |
| Main Beam | Hi-tensile steel, hot rolled 12″ x 14 lb/ft H-beam |
| Gooseneck | 4″ deep fabricated H-beam type, 1/2″ thick x 4″ wide top and bottom flange |
| Crossmember | Fabricated channel type with diagonal braces throughout rear bolster to gooseneck section |
| Upper Coupler | All hi-tensile steel construction with A.A.R. Certified cruciform style king pin. All interior walls of closed sections are coated for superior corrosion protection. |
| Front Bolster | 8″ wide x 10″ deep, open section with full width container guide feature made from hi-tensile steel with two horizontal locking pin assemblies. |
| Rear Bolster | 8″ wide thick top plate with "U" type channel section made from hi-tensile steel with two nonretractable twist lock assemblies. |
| Landing Gear | 50,000 lb. capacity with heavy-duty low profile sand shoe. |
| Rear Impact Guard | 4″ square horizontal tube designed and tested to conform to federal motor vehicle safety standards in effect at time of production. |
| Suspension | Slider suspension with 2 pin locking mechanism, two leaf springs. Location variable in 6″ increments. |
| Wheel & Drums | Heavy duty, 16-5/16″ x 7″ outboard mounted brake drums with 8.25″ x 22.5″ hub piloted disc wheels. |
| Tires | 11″ x 22.5″, radial. |
| Axles | 5″ round, 22,500 lb. rating, 71 -1/2″ track, 16-1/2″ X 7″ with non-asbestos lining. |
| Brakes | 2S-1M ABS Brake system. Meets FMVSS 121 |
| Lights & Wiring | 12 volt sealed system with molded connectors to accept sealed lamps. |
| Paint | All steel parts are shot blasted, coated with zinc rich primer and finished with urethane top coat. |
| Markings | Customer markings installed. Conspicuity marking per latest Federal Safety Standards. |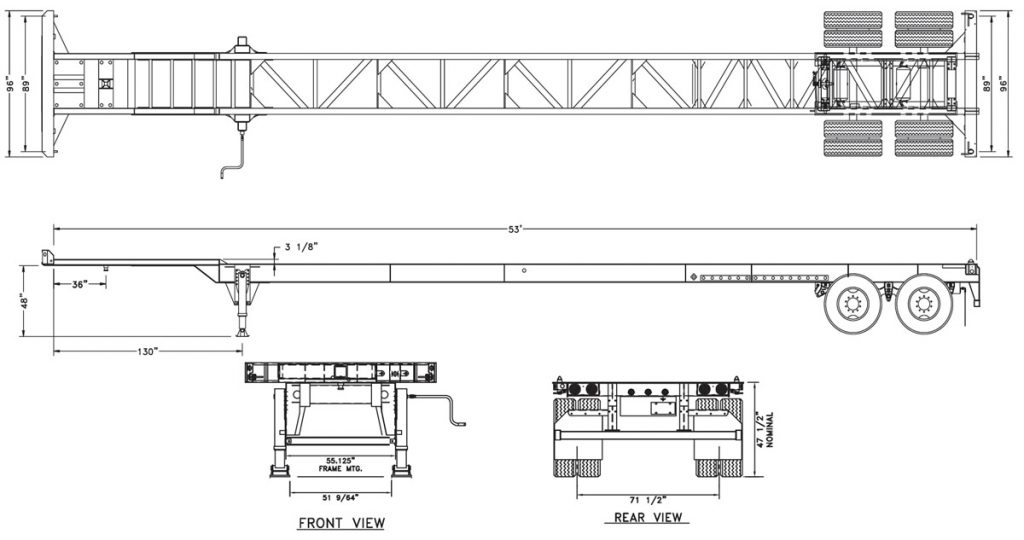 Available with Hot Dipped Galvanizing to stop that rust and paint peeling.
For More Information on this trailer,
call your local sales representative located on the
Contact Us page or  call  780-447-1970