Composite Dry Van Trailer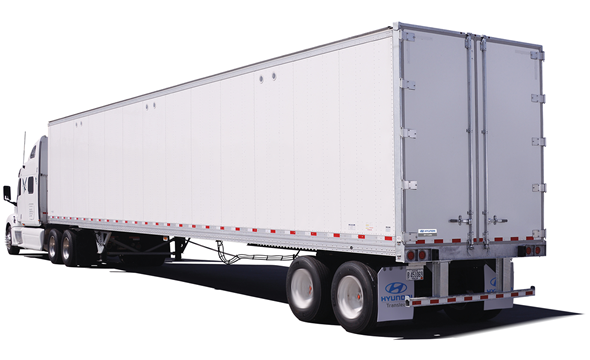 SPECIFICATIONS
STANDARD FEATURES
Logistic slotted stiffeners standard
Easiest repairability of sidewall panel
Sealed wiring harness with internal ground
Hot-dip galvanized steel rear frame and rear underride guard
Easy operating door lock rods with rubber handle grips for operator comfort and safety
Water and debris resistant tail light housing
Computer controlled machine riveting of sides and roof
GENERAL
Length
Exterior: 53′ 0″
Interior: 52′ 6″
Width
Exterior: 102.36″
Interior: 101.50″ at floor
Height
Exterior: 13′ 6″
Interior: 110″ front/111.50″ rear
Capacity
68,000 GVWR 4,095 cu. ft. of interior volume
Door Opening
111.50″ Height
Tare Weight
13,980 lbs
AIAG Floor Rating
20,000 lbs
BODY CONSTRUCTION
| | |
| --- | --- |
| Side Sheets | 0.25″ Composite panel with prepainted white, High tensile galvanized steel inner and outer sheets. |
| Side Stiffeners | 19GA High tensile galvanized steel on 48″ centers. |
| Roof | One piece, 0.040″ thick, full width aluminum sheet, tension leveled prior to installation. |
| Roof Bows | 16GA Galvanized steel, anti-snag, on 24″ centers. |
| Front Wall | Four hi-tensile, hat shaped, posts securely fastened with 6 heavy-duty fasteners and reinforced with a special angle clip, welded to the upper coupler and covered with 0.050 aluminum front sheets. |
| Rear Frame | Hot-dip galvanized, hi-tensile steel construction 3/16″ thick with low profile header, tube shaped posts. Forged steel angle irons in top corners for added rack resistance. Lights recessed in rear sill with heavy-duty protection bars. |
| Rear Doors | Composite panel, swing door. |
| Interior Lining | Exterior grade 50″ plywood installed on bottom and 0.25″ plywood installed on top over front wall, none on sidewalls. |
UNDERFRAME
| | |
| --- | --- |
| Crossmembers | Four inch deep, hot rolled steel I-beam, 80,000 psi yield strength, located on 12″ centers. |
| Upper Coupler | A.A.R. rated king pin, 3-3/8″ deep. |
| Floor | Laminated Oak 1-3/8″ nominal thickness with three screws per floorboard. |
| Landing Gear | Hot-dip galvanized wing plate and support gear bracing mounted to five crossmembers. Two speed, 50,000 lb. capacity, A.A.R. rated, with 10″ × 10″ sandshoes. Roadside crank handle. |
| Rear Underride Guard | Constructed per CMVSS 223 Regulations. Hot-dip galvanized underride guard. Bolt-on type with special 4″ square Guard tube with end cap to prevent slippage and recessed for conspicuity tape. |
SUSPENSION
| | |
| --- | --- |
| Suspension | Hendrickson air ride. |
| Hub & Drums | Ten stud, hub piloted with outboard mounted brake drums. |
| Wheels | Pre-painted white 8.25 × 22.5 steel disc. |
| Tires | Low profile 22.5 radial tires. |
| Axles | Five inch round, 22,500 lb. rating, 77.5″ track. |
| Brakes | Non-asbestos lining 16.5″ × 7″ quick change type, "S" cam operated automatic slack adjuster. |
| ABS System | Two sensor, one modulator valve (2S/1M) system, PLC4Trucks compatible system. |
| Oil Seals | Stemco Platinum Performance. |
ELECTRICAL
| | |
| --- | --- |
| Lights & Wiring | Color coded 12-volt sealed wiring system, internal ground, and special watertight molded connectors to accept sealed lamps. |
PAINT & FINISH
| | |
| --- | --- |
| Paint | Steel front impact guard is abrasive blasted, coated with zinc rich epoxy primer and white finish top coat |
| Undercoating | Flooring is pre-undercoated and crossmembers are dipped in a black color coating prior to installation. Landing gear and running gear areas painted with gray color non-hardening rust preventative. |
| Decals | D.O.T. approved Hyundai Translead logo conspicuity tape and FHWA inspection sticker. |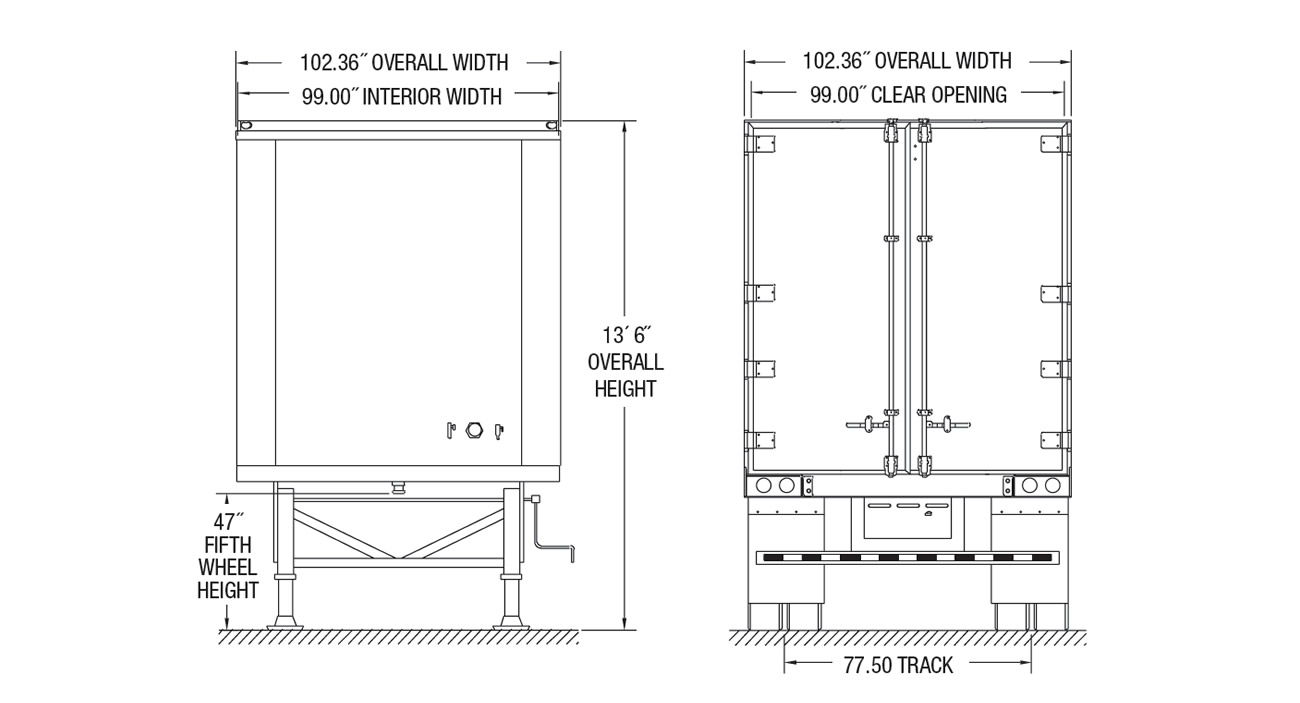 Features vertical logistic bars every 18″ long the interior walls.
Fully customizable for your convenience.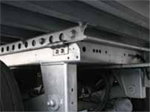 Ultimate Corrosion Package
The Translead offers a reliable corrosion package for additional protection for steel components that are not part of the standard hot-dip galvanized package.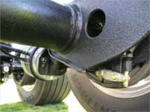 TuffCoat®
HT TuffCoat® is a spray on-corrosion preventative coating for components that are unable to be hot-dip galvanized.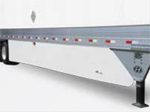 Skirts
The Hyundai Translead features aerodynamic components from various manufactures to keep your transports road safe.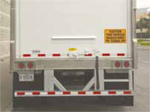 Roll Up Doors
Roll Up Doors are available from various manufacturers.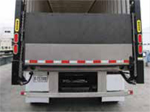 Lift Gate Factory Install
Lift gates are able to be factor installed for your convenience.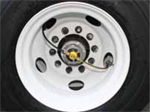 PSI System
PSI systems are available for factory installation.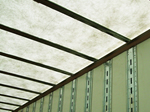 Translucent Roof
Kemlite® ETR roof skins provide greater interior visibility and safety for workers as well as cargo.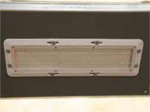 Dome Lamps
Dome lamps offer increased visibility and are available from various manufacturers.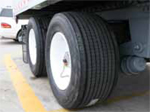 Wide Base Tires
Wide based tires guarantee road safety and are available for your convenience.
For More Information on this trailer,
call your local sales representative located on the
Contact Us page or  call  780-447-1970